Green Energy
WELCOME TO GREEN ENERGY
COMMERCIAL SOLAR POWER
Rising electricity prices means higher operating costs for businesses. A solar power system can immediately reduce costs and in turn business risk. GEWA looks at each business individually, including assessing your load profile to accurately recommend an appropriate system. Through our internally developed investment calculator we will provide you with a detailed final report to assist your decision making.
The report includes:
Expected Solar Yields
Expected Returns
Net Present Value (NPV)
Investment Rate of Return (IRR)
Payback Periods
Scenario Analysis
Depreciation Tax Benefits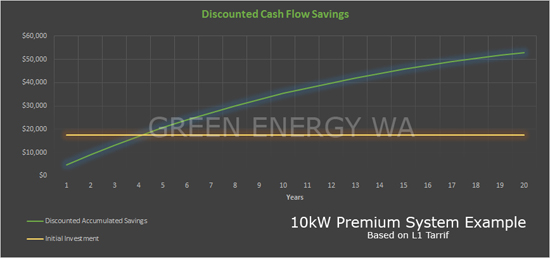 Why Green Energy?
With years of experience and hundreds of installations across Western Australia, GEWA offers you piece of mind when it comes to selecting the right brand and product for your business.
NVP
GEWA uses net present value to determine an investments worth. This takes into account your finance or opportunity costs for investing and reflects it in a time series of discounted cash flows. This is the standard method for using the time value of money to appraise long-term projects.
GEWA Investment Calculator
An internally developed investment calculator offers our customers a unique advantage in understanding not only what the system will produce but how this will impact on their business's operating costs by detailing not only the NPV but also other financial concepts including expected returns, IRR, and payback periods.
Extra Benefits
Solar power systems can offer substantial depreciation tax benefits resulting in tax savings for the business.
Solar panels also offer shading on the roof which can reduce heat in the roof space.
A system increases your businesses sustainability by reducing operating costs and the impact electricity prices have on your business.
Minimal maintenance means you can install the system and not need to worry about it.
Free or complex monitoring systems are available.
Generating your own Green Energy means a reduction in greenhouse gases and your own positive impact on our environment.
Our quotations include the following services :
Complete costs including all products and installation.
Application to electricity retailer and Western Power.
Existing meter change or reconfiguration.
STC government rebate claim.
Product manuals, warranty overviews and electrical safety
      certifications upon commissioning.
If you would like an individual quotation created for your business please visit the  contact us page.